For off-campus access to the RPCC databases and e-book collections, you will be directed to the login screen shown below. You must use either your LoLA ID number or your LoLA username, and your PIN (your six-digit date of birth, formatted mmddyy). Then click "Login" to access the selected database; note that as long as the browser in use remains open, users should not be prompted to login when accessing other databases.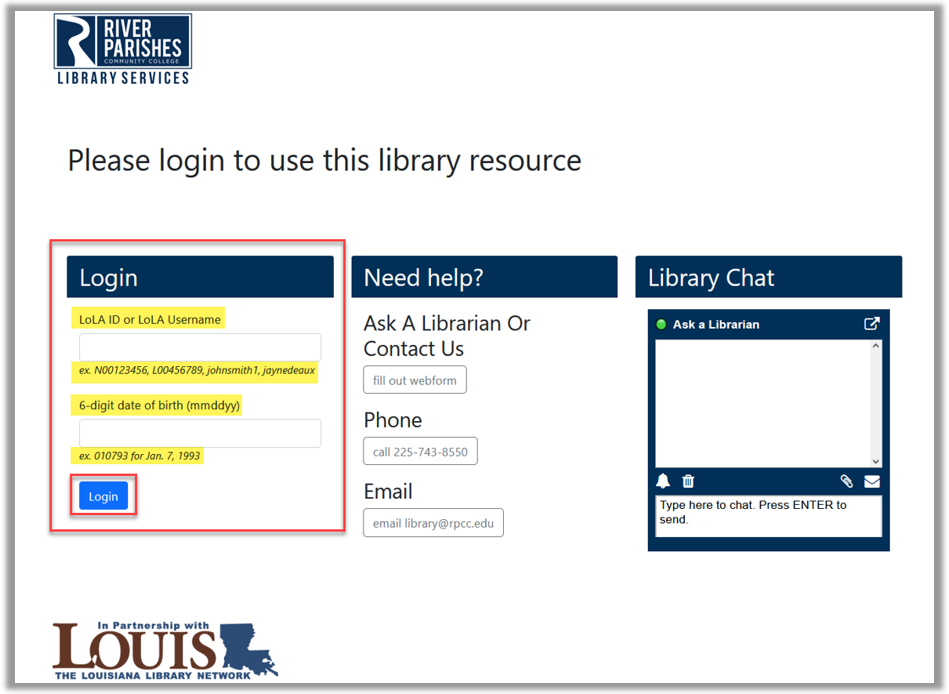 Note: You can find your LoLA ID number once you have logged into LoLA; select RPCC under Self Service and go to any schedule view option, such as Week at a Glance. Your LoLA ID number will be displayed in the upper right corner along with your name.
---

LearningExpress PrepSTEP is a learning resource that offers:
Practice tests for common standardized tests for certification and/or licensing in various professions
Exercises, skill-building courses and e-books for help with mathematics, writing and other skills
Popular software tutorials
And more!
Access to RPCC's LearningExpress PrepSTEP must be made through any LearningExpress PrepSTEP or related center link on the RPCC Library website. Off-campus, users will be directed through the RPCC Databases Login, before accessing LearningExpress PrepSTEP.
Once on the LearningExpress PrepSTEP homepage, login with your personal account or create one as needed.
If you do not have a LearningExpress PrepSTEP account, you may create your own from on or off campus.
Once on the LearningExpress PrepSTEP site, select Sign In/Register.
Your Username will be the e-mail address that you use and cannot be changed.
Your password must be at least six (6) characters long.
---
This resource includes ebooks, video, interactive media and more on topics like computer science, programming, business, cyber security, and more. To access this resource, you must use your RPCC email account, whether you are on or off-campus.
Step 1: Below "Select your institution," click "Institution not listed?"
Step 2: Choose accordingly:

If you have never accessed O'Reilly before, enter your official RPCC email address.
If you have accessed O'Reilly before, click "Already a user?" to sign in.

Step 3: Sign In - Enter your email address; click Continue to enter your password. DO NOT click "Start a free trial."
Step 4: Enter your password! If you don't remember your password, click "Forgot Password?" to request a password reset to be sent to your email address; check spam, etc., if you don't see it in your inbox.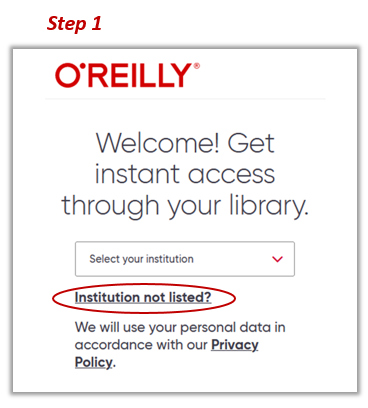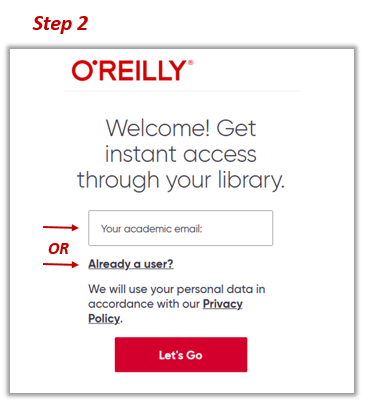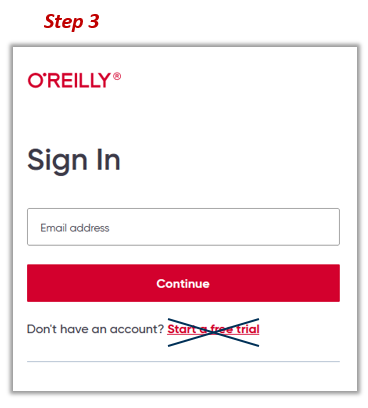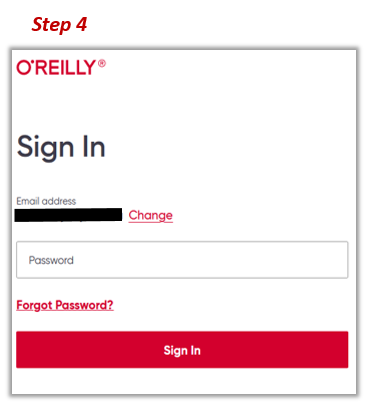 Do not use a personal email account. If you do not have an RPCC student email account, contact [email protected], and provide your full name and LoLA ID number to request assistance.
---
Important Note:
Access to the LOUIS and RPCC databases is provided by RPCC Library Services through paid subscriptions and annual consortium fees. Access and use of the Databases off-campus is limited to current RPCC students, faculty, and staff only. Authorized users will need their User ID and PIN to use the resources remotely. Please see login information above or ask an RPCC Librarian for details.